Organic Apple Cider Vinegar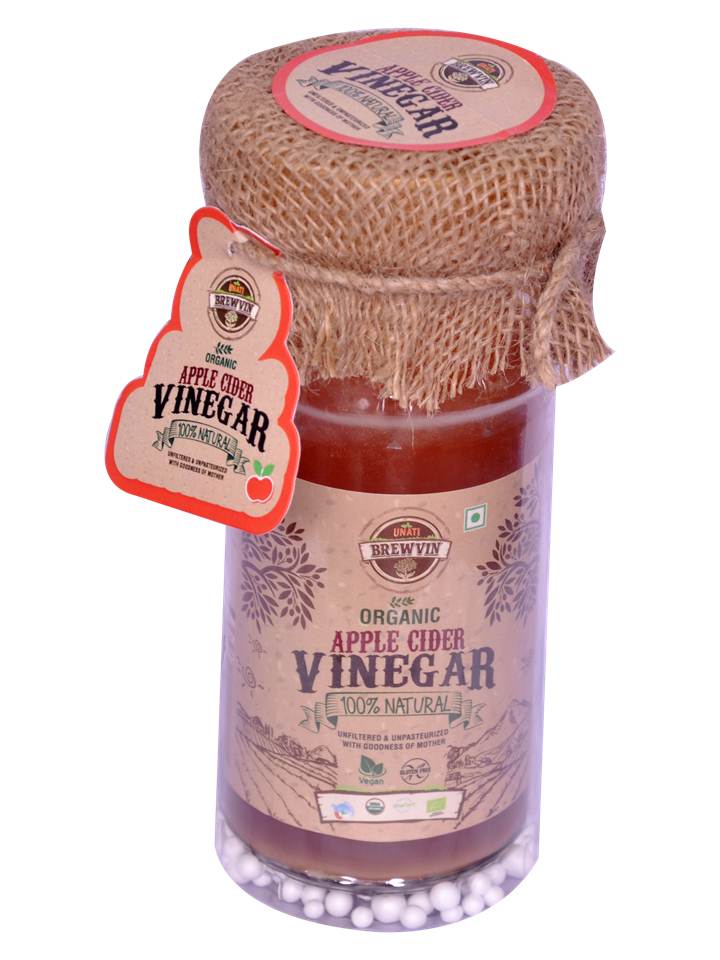 Apple cider vinegar, otherwise known as ACV, is a category of vinegar made from cider or apple juice with pale to medium amber color. Apple is a rich source of polyphenols, phytonutrients and iron that helps in reducing the risk of mounting hypertension, heart and diabetes. Unpasteurized or organic ACV contains "the mother", which is a complex structure of beneficial bacteria and acids that makes the vinegar look slightly congealed and seem to have health benefits. ACV delivers polyphenols ie. natural antioxidants and potentially helpful in reducing the glycemic index of a meal.
The Unati's process of producing ACV is a blend of modern science fermentation technology and ancient ayurveda skills of asava and arishta. ACV of 'The Unati' is made by a scientifically optimized process in which we use Arjuna bark as supporting media for fermentation which is a powerful antioxidant and beneficial in maintaining healthy levels of cholesterol. So, the principle of using Arjuna bark in our proprietary process is to utilize its essential benefits that radically come into ACV. Moreover, the Unati's ACV is bottled at peak maturity, unfiltered and unpasteurized which makes it a product of choice.
Salient Features of "The Unati's" ACV:
o Unati's ACV is made from fresh Apple fruit juice and not from the apple concentrate.
o Apple fruit is processed to juice using aseptic juice processing facilities.
o Apple fruit for juicing is sourced from upper Himalayan belt through certified suppliers (Shimla, Sirmour, Rampur, Kinnaur, Mandi).
o Brewing process is done with the technology developed by ambient scientists of Department of Microbiology, Punjab Agriculture University, Ludhiana.
o Maturing of ACV is done in wooden barrels/drums made of oak wood to give it the unique flavor.
o Unfiltered and unpasteurized vinegar with mother is sold as a natural product.
Processing aids: Patent bacterial and yeast strains developed at Department of Microbiology, PAU, Ludhiana have been used for ACV fermentation.
Recommended usage:
Mix 2-3 teaspoon of Apple Cider Vinegar in a glass of water and consume on empty stomach or 30 minutes prior to meal. it can also be used for salad dressing
Caution: Do not consume pure vinegar directly, always dilute with water. Pregnant and lactating mothers should not consume it.