Organic Jamun Vinegar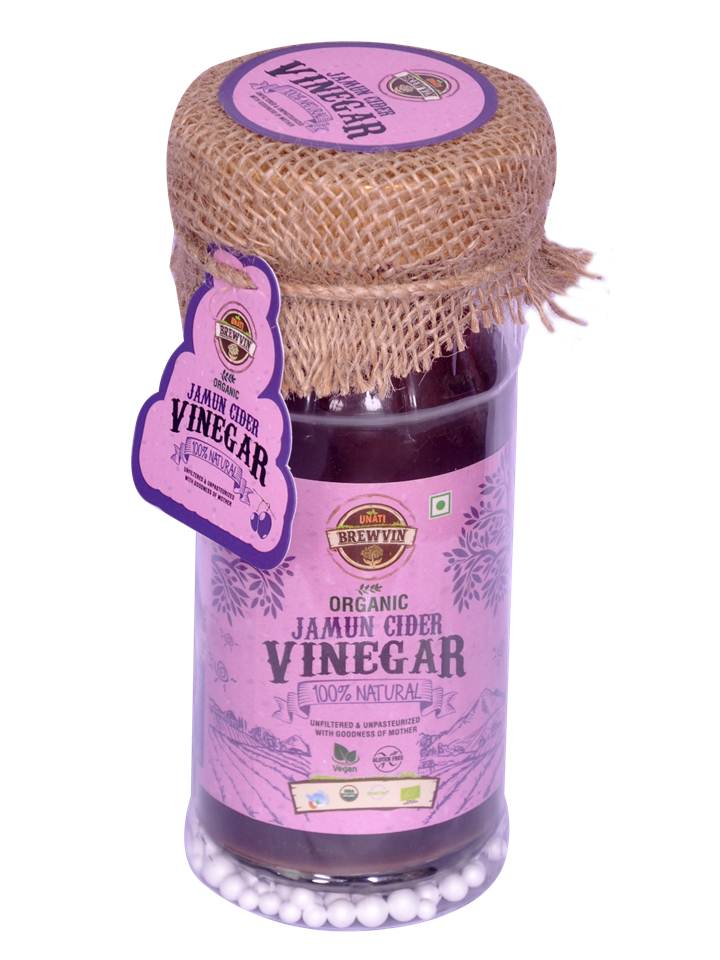 Jamun (Syzigium cumini) or Indian Blackberry is a rich source of polyphenols and anthocyanins. Unati Jamun vinegar is made from all natural Jamun fruits collected from lower Shiwalik belt of Himalaya, fermented with scientifically optimized process developed by Punjab Agriculture University under Department of Science & Technology aided Project. Jamun Fruit for the product is collected under Unati Slum and Landless Income Generation Program a social initiative of Unati to support unprivileged.
The Brewvin Jamun Vinegar is bottled at peak maturity, unfiltered and unpasteurized which makes it a product of choice. It is sold unfiltered and unpasteurized with the mother of vinegar present, as a natural product.
Jamun vinegar supplies the polyphenols and anthocyanins.
It helps in controlling the blood sugar level in diabetic patients.
Regular consumption of Jamun vinegar during/after a meal is useful in the management of sudden rise in blood sugar level.
Jamun vinegar may helps in the treatment of diarrhea and other GI related disorders.
Recommended usage:
Mix 1-2 teaspoon of Jamun vinegar in a glass of water and consume on empty stomach or 30 minutes prior to meal. It can also be used for salad dressing
Caution: Do not consume pure vinegar directly, always dilute with water. Pregnant and lactating mothers should not consume it.
Contraindication: Consume only after consultation with health care professional if already taking antidiabetic, antihypertensive, lipid lowering and other related medications.