Organic Amla Powder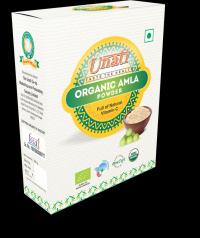 Amla (Emblica officinalis) fruit belongs to Euphorbiaceae family, commonly known as Indian gooseberry. The fruit is richest source of natural vitamin C; it also contains minerals and vitamins like Calcium, phosphorus, iron, carotene, vitamin B Complex, etc. In the text of Ayurveda (Ancient traditional system of medicine from India) the fruit is considered as "Amritphal" which contains all five "rasas" and considered to balance all "Tridoshas" (Vata, Pitta and Kapha) and recommended for
Delayed aging
Against blood related disorders
Treating acidity
Treating burning sensation
The Management of Diabetes
Liver and Kidney functioning.
Scientifically the fruit is proven as
Rich source of Vit C and polyphenols
Natural Immunity booster
Significant cholesterol lowering and anti-atherosclerosis agent
Anti-aging agent
Good Antioxidant agent
Recommended Usage: Take about 3-5 g of Amla powder empty stomach with lukewarm water daily. It can be used in the form of decoction prepared by boiling of 3-5 g of Amla powder in 200 mL of water for 5 to 7 minutes. Filter it and have a sip. Caution:
Do not consume before bed as may cause damage to tooth enamel or cause sore throat. Drink more water along with Amla.